Tangney Observatory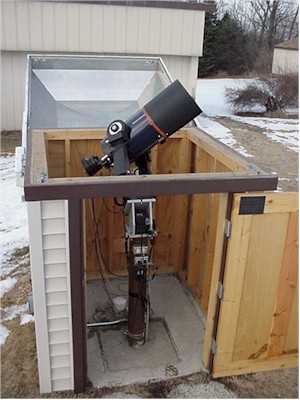 Virgil Tangney is a long time very active member who was involved in many observatory projects since he joined the MAS in 1964. He has served as the MAS President, Vice-President, Assistant Observatory Director, AAVSO Recorder, and Newsletter Editor. He is currently our longest living member.

Mary Ann Tangney (1928-2008) served as MAS Secretary for many years.

Both Virgil and Mary Ann Tangney were active observers.

This is our only flip-top observatory structure and is designed for robotic telescopes.
The Tangney Observatory houses a Meade 12" f/10 LX 200. It is remotely controlled from the lower level of the Z Dome. An SBIG 9 CCD camera is permanently attached to the scope and feeds to a computer in the control room.