MAS Log Books
1938-2020
Soon after the the MAS Observatory dedication in June of 1938, we instituted the general policy of making an entry into a log book whenever you went to the observatory. The minimum information would be the date and member name. But what made them golden is when additional information was written.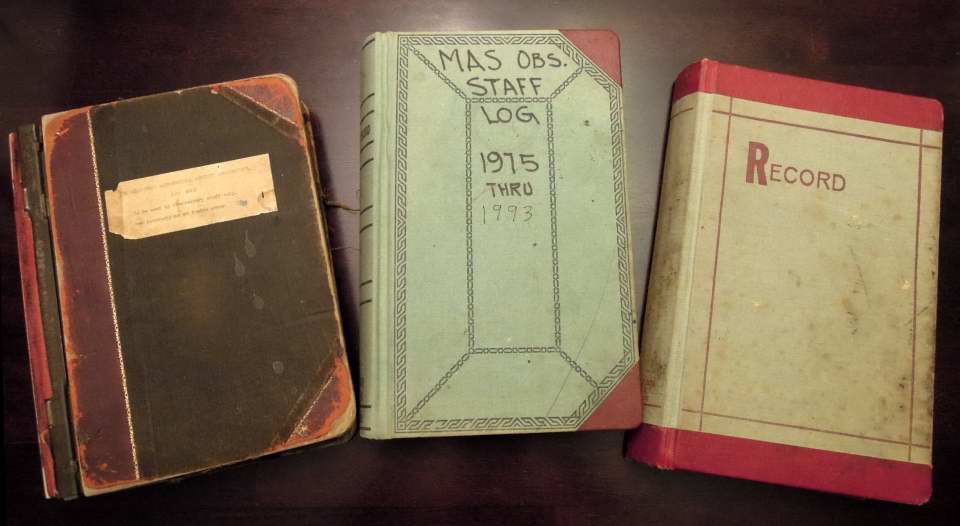 We have scanned the first 3 complete log books into PDF format. The first book went from 1938-1957, the second 1957-1975, and the final book 1975-1993. The last log book which started in 1993 is still active, but we have scanned through the middle of July, 2020. There are about 33 pages left until a new book will be started.

The pages are divided into years, unless the page count for that year made the PDF file which is too large. In that case the year is roughly divided at June/July.
| | | |
| --- | --- | --- |
| 1938 | 31 | 14,154,969 |
| 1939A | 37 | 17,235,518 |
| 1939B | 31 | 14,802,738 |
| 1940 | 42 | 19,397,011 |
| 1941 | 41 | 19,442,988 |
| 1942 | 10 | 4,991,932 |
| 1943 | 9 | 4,817,013 |
| 1944 | 10 | 4,979,010 |
| 1945 | 4 | 1,795,731 |
| 1946 | 12 | 5,502,999 |
| 1947 | 14 | 6,071,211 |
| 1948 | 14 | 6,533,116 |
| 1949 | 13 | 6,249,114 |
| 1950 | 7 | 3,169,470 |
| 1951 | 4 | 1,863,300 |
| 1952 | 11 | 4,843,645 |
| 1953 | 33 | 14,649,670 |
| 1954 | 15 | 6,608,053 |
| 1955 | 26 | 11,193,629 |
| 1956 | 44 | 19,669,850 |
| 1957A | 32 | 13,910,213 |
| 1957B | 31 | 15,720,823 |
| 1958 | 28 | 16,367,288 |
| 1959 | 39 | 19,037,520 |
| 1960A | 21 | 11,947,978 |
| 1960B | 25 | 16,482,083 |
| 1961 | 29 | 19,007,555 |
| 1962A | 17 | 12,171,891 |
| 1962B | 21 | 15,573,266 |
| 1963 | 26 | 17,244,149 |
| 1964 | 25 | 15,973,156 |
| 1965 | 21 | 13,119,033 |
| 1966 | 21 | 14,250,597 |
| 1967 | 16 | 11,285,794 |
| 1968 | 26 | 17,911,355 |
| 1969A | 17 | 11,934,063 |
| 1969B | 21 | 13,038,714 |
| 1970 | 31 | 20,237,340 |
| 1971 | 28 | 17,810,430 |
| 1972 | 30 | 20,998,107 |
| 1973 | 29 | 18,947,041 |
| 1974 | 29 | 20,258,461 |
| 1975 | 29 | 20,806,998 |
| 1976 | 30 | 21,401,861 |
| 1977 | 23 | 16,552,480 |
| 1978 | 20 | 14,505,508 |
| 1979 | 15 | 9,957,584 |
| 1980 | 17 | 11,470,970 |
| 1981 | 21 | 13,122,828 |
| 1982 | 19 | 10,946,082 |
| 1983 | 18 | 11,028,046 |
| 1984 | 32 | 20,584,158 |
| 1985 | 38 | 24,136,854 |
| 1986 | 33 | 20,698,767 |
| 1987 | 27 | 16,649,980 |
| 1988 | 29 | 17,577,406 |
| 1989 | 33 | 20,823,872 |
| 1990 | 39 | 23,966,348 |
| 1991 | 35 | 24,115,102 |
| 1992A | 17 | 11,891,754 |
| 1992B | 20 | 14,023,881 |
| 1993A | 17 | 11,938,574 |
| 1993A | 14 | 11,318,633 |
| 1994 | 23 | 19,493,628 |
| 1995 | 22 | 18,524,920 |
| 1996 | 21 | 17,330,835 |
| 1997 | 25 | 20,255,311 |
| 1998 | 27 | 21,645,550 |
| 1999 | 26 | 20,651,462 |
| 2000 | 26 | 19,529,426 |
| 2001 | 23 | 17,028,640 |
| 2002 | 21 | 13,691,987 |
| 2003 | 21 | 14,826,340 |
| 2004 | 19 | 13,317,936 |
| 2005 | 17 | 11,769,196 |
| 2006 | 14 | 9,558,478 |
| 2007 | 15 | 10,513,576 |
| 2008 | 18 | 12,514,305 |
| 2009 | 18 | 13,006,082 |
| 2010 | 16 | 11,049,292 |
| 2011 | 12 | 8,137,567 |
| 2012 | 13 | 8,531,093 |
| 2013 | 11 | 7,514,181 |
| 2014 | 13 | 8,247,731 |
| 2015 | 12 | 7,233,576 |
| 2016 | 16 | 10,032,283 |
| 2017 | 16 | 10,195,541 |
| 2018 | 12 | 7,591,035 |
| 2019 | 11 | 7,291,864 |
| 2020A | 6 | 3,664,638 |
Log Book Exerpts